Make Your Own Air/Oil Separator!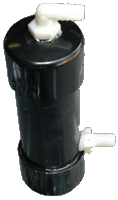 What you'll need:
2 inch OD PVC tubing [$5.79 for 10 feet]
2 inch ID PVC end caps [$1 ea]
1 straight 1/2" barb to 1/2" pipe fitting [$1]
1 90° 1/2" barb to 1/2" pipe fitting [$1]
1 1/8" pipe (female) to 1/2" pipe (male) bushing [$1]
1 1/8" pipe stopper plug [$1]
2 or 3 plastic scrubber pads [$1 ea]
Total cost: $6-$12 depending on how much tubing you get. I have 9-1/2 feet left.
Get a good look at these. Plastic loops, not metal.

First, get all your stuff together.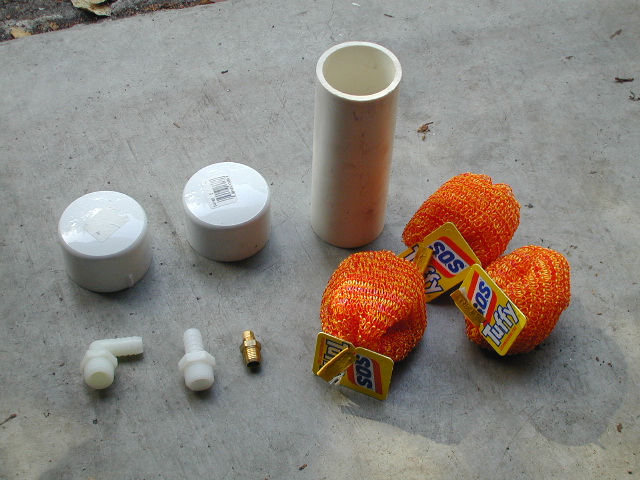 You can paint the parts if you want...I choose black
(Yes I know ABS pipe is black to begin with)
There are 3 holes you need to drill:
3/4"ish x 2 for the barb fittings (one in top, one in lower side)
1/2"ish for the bushing/plug (in bottom)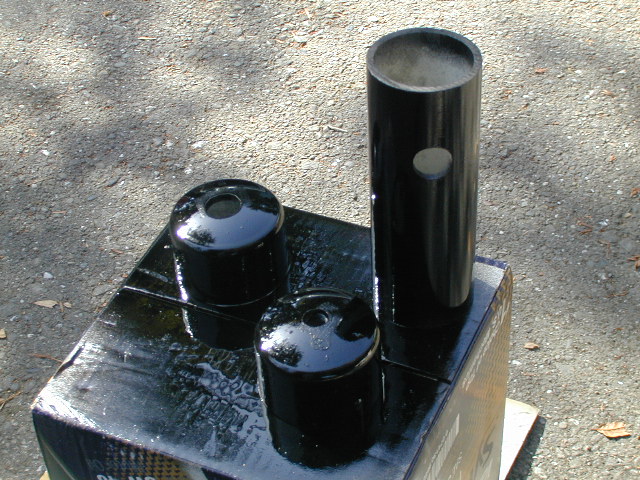 Epoxy the barb fittings into the top and side of the tube and cap.
Epoxy the bushing/plug (no epoxy between the plug and bushing!) into the other cap and epoxy THAT cap with the bushing on to the side nearest the hole.
Aren't you glad you drilled that hole far enough from the end that it didn't cause trouble?
Stuff a couple of scrubbers into the open end. Don't pack them in too tight or you wont get your Positive Crankcase Ventilation. Just push them in so they fill most of the empty space.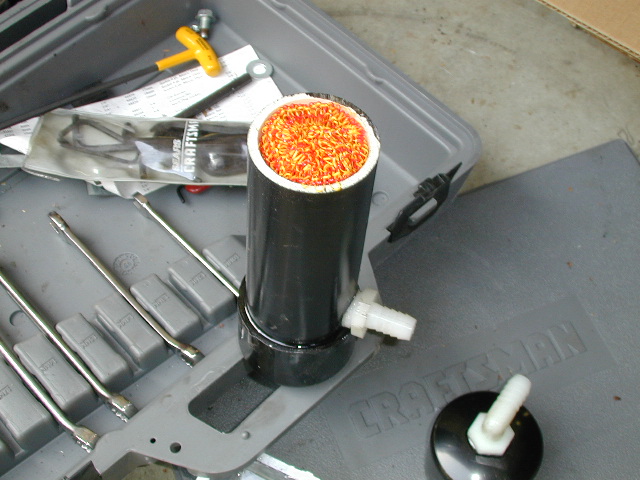 Epoxy the other end cap on (point the barbs in a convenient direction...) and VOILA! One oil/air separator with a drain. Be sure to put Teflon tape on the plug so it doesn't leak. It almost looks expensive, but it's not. If the SMOG technician asks you what it is, tell him it's just a fancy double barb fitting because you only had two pieces of hose instead of one long one. Sorry I didn't photograph the drain plug, but you get the idea.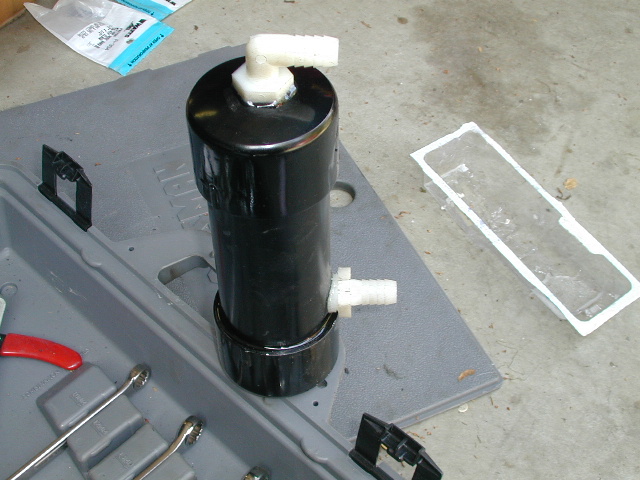 ---
celica index | car history | for sale | links | y8s home | E-mail